Antiva

Currency Validator

ANTIVA currency validator uses the latest in counterfeit detection technology to alert you of fraudulent money. Currency Validator is equipped with special sensors, which identifies the denomination of the inserted currency, its authentically and detect fake notes of any denomination.

Currency Validator is quick and very easy to operate fake note detector. Just insert the currency, and in a second it will detect whether the currency is genuine or counterfeit. Currency Validator displays Information, Denomination of each note, Quantity and Total value of authentic currency & Reason of Rejection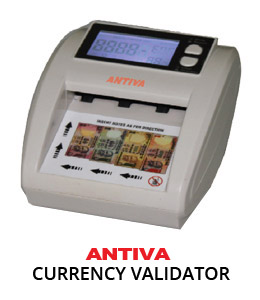 Currency Management Systems
ANTIVA CURRENCY VALIDATOR
key Features:
Automatic detection with complete analysis of different parameters.
LCD Backlit display with full details about denomination and Test results
Compact, Portable and can be carried any where.
Currency Validator detects, validates and adds up the value to show total value of currency received for checking (helpful when received cash from a customer and easy to validate the value)
Sophisticated state-of-the art technology.
Detects fake note with an audible tone. Confirms genuinely of the currency in less than a second
Easy to operate
Technical Specifications
Model
ANTIVA Currency Validator
Power Supply
AC 100-240 V 50/60 Hz
AC/DC 9V, 2A Adaptor
Power Consumption
7 Watt
Display
LCD with back light
Working Temperature
-10C to +45 C
Relative Air Humidity
40% to 80%
Feeding System
Synchronous transmission mode
Counting Speed
1 note / sec
Counterfeit Detection
MG (Magnetic), IR (Infrared), UV (ultraviolet), RGB (Color)
Weight
0.8 kg
Warranty: One Year on Machine (Subject to terms of use)
Currency Management Systems Disclaimer: ANTIVA Loose note counters, bundled note counters, currency validators are designed and tested with a number of samples of fake notes found in the market. They are also tested as per the observation noted by Reserve Bank of India. In the event of non performance of detecting fake notes by the machines, wrong counting due to technical faults. The company will not be responsible for any financial loss or damages caused to the user.
Note: Specifications, design and colour of the product subject to change due to continuous development of the product.