
AVANTI

MR 300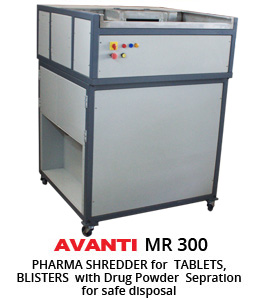 SHREDDER WITH SEGREGATOR
Packaged Material recovery plant for hazardous waste management of Pharma Companies engaged in tablet manufacturing.
key Features:
Cutters aremade of alloy steel
5 years warranty on cutters
Designed for minimum noise level
Rugged body all metals construction
Shred in cross cuts and separates the material
Over load cut off with auto reverse
Thermal cut off for motor
Can be used continuously for non stop shredding and separation
Total assurance for supply of spares

Application:

Tablet/Capsule strips, and other pharma products.
This fine shredding machine is mainly used in hazardous waste management for pharma companies engaged in tablet manufacturing. After passing through this integrated unit the packaging material and the chemical compound of the tablets get shredded and seperated upto 95% from each other. The total system is designed to avoid air pollution which is very effective if connected to dust collection systems.
Technical Specifications
Model
MR 300
Shredded Feed width (mm)
300-400 mm
Shred size (mm)
Custom Made
Shred Capacity
250 strips
per minute approx
Voltage
3 phase, 50 Hz, 415 V
Power
3 HP
Weight (kgs)
550 kgs (approx)
Machines Dimensions (mm) HxWxD
2000x1200x1500 (approx)
Overload Protection
yes
Overheat Protection
yes
Auto Start/Off
online starter
MOC
CR Tube structure with
MS sheet covers, duly
powder coated. All
internal components and
cutters are made from
alloy steel.
SEGREGATOR
No. of decks
Motor Rating
Supply Input

Single Deck
0.5 HP
3 phase, 50 HZ, 415 V
MOC DETAILS
Base
Mesh
Decks

C.R. Steel
SS 304
MS
Working cycle if operated in ventilated ambience and at 60% rated capacity
continuous
Note: Specifications, design and colour of the product subject to change due to continuous development of the product.
Check More for Similar Models